In January, the Canadian Real Estate Association (CREA) predicted house prices could fall almost six per cent this year from 2022, which ended in a sluggish market as sellers and buyers sat on the sidelines.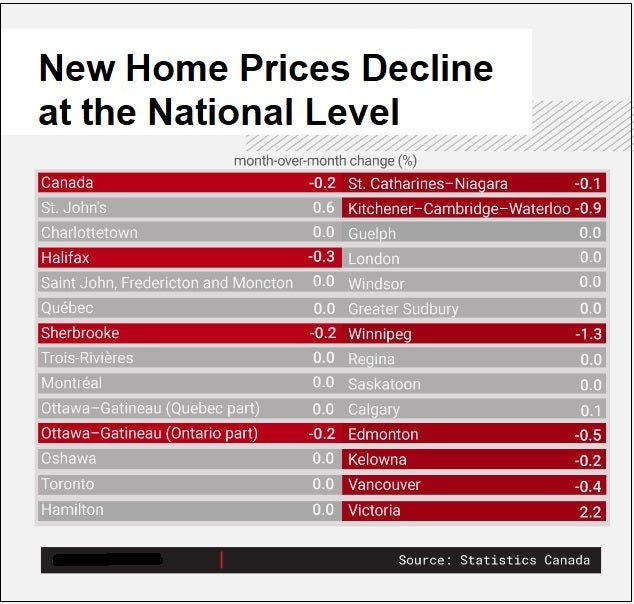 The association's forecast amounts to 495,858 properties changing hands in 2023 and is based on sales "more or less" stabilizing since the summer, "suggesting the downward adjustment to sales activity from rising interest rates and high uncertainty may be in the rear-view mirror."
The same factors are also expected to put a damper on the average home price, which CREA said will reach $662,103 in 2023.
StatCan said that nationally, new home prices increased 2.7 per cent on a year-over-year basis in January 2023, "significantly lower than the 11.8 per cent year-over-year increase reported in January 2022, when the market was still hot."

CREA also reported that the national sales to new listings ratio for resale homes stood at 57.8 in January 2023 compared with 77.9 in January 2022, pointing to a cooling market.

Calgary recorded the largest year-over-year gain in new home prices in January 2023 (+10.9 per cent), followed by Windsor, Ont. (+5.9 per cent), and Quebec (+5.3 per cent).

On a month-over-month basis, Calgary (+0.1. per cent) and St. John's, N.L. (+0.6 per cent), were the only cities to see new home prices rise, StatCan said.

When it comes to homebuying, CREA said earlier in February that sales hit a 14-year low for the month of January. Sales volume was 37.1 per cent below the same month last year, the second-best January ever on record.

Sales were down three per cent on a month-over-month basis, which CREA said effectively gave back small gains seen in December 2022.


In non-seasonally adjusted terms, CREA said the national average home price in Canada was $612,204 in January, down 18.3 per cent year over year. CREA's benchmark Home Price Index is now down 15 per cent from the peak seen in February 2022.
Prices drops are steeper in some Ontario and B.C. markets, but CREA noted Calgary, Regina and Saskatoon and St. John's as some cities where prices are holding steadier.
Source: Statistics Canada