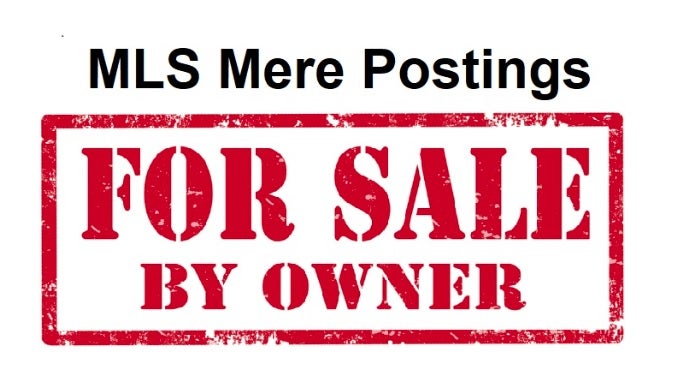 According to the Canadian Real Estate Association, a "mere posting" sometimes referred to as a "mere listing" is a listing on a board or real estate association's MLS system in respect of which the Member (Realtor) has chosen or agreed not to provide services to the Seller other than submitting the listing for posting on the Board's MLS System. This change is a direct result of the Consent Agreement between the Canadian Real Estate Association and the Commissioner of Competition.
According to the agreement, a listing Realtor/Brokerage must act as agent for the seller to post, amend or remove a property listing in a Board's MLS System. However, the nature of any additional services to be provided by the listing Realtor/Brokerage to the seller is determined by agreement between the listing Realtor/Brokerage and the seller.
In simple language, a mere posting is a property listing that is for sale by owner but advertised on Realtor.ca on behalf of the private seller via a listing on a Board's MLS System. It is listed for a flat fee and is free of any traditional realtor commissions.
This means you can opt-in for a flat fee mere posting and opt-out for having a real estate agent represent your interests in dealing with any prospective buyers, agents or any transaction that may result.
Q: How does it happen?
A: Licensed realtors operating as discount brokerages and/or for sale by owner companies partnering with licensed real estate posting brokerages, process the listing to the MLS system on behalf of the home sellers.
Q: Do you have to go through a real estate agent?
A: Yes. In order to maintain the integrity of the information on Realtor.ca, a licensed real estate agent or broker must process the listing who is a member of the MLS (Multiple Listing system).
Q: How much commission will I pay?
A: It's not really a commission. You pay for the mere listing upfront as a flat fee non-refundable fee for providing full MLS exposure whether or not you obtain a sale. Generally this saves you thousands of dollars but doing a lot of the work yourself.
Q: How soon will my listing appear on MLS?
A: Usually within 24-48 hours.
Q: Can you make changes/additions to it once it's uploaded?
A: Yes. Only your realtor can do this. 5 changes will be allowed for maintenance such as additional pictures, price reductions or comment changes. (As mentioned above, the general public cannot post, amend or remove information themselves).
Q: Should I let agents show my property.
A: Only if you are prepared to pay them a fee. If you are paying a "buyer agent fee", please put in the listing comments buyers agent to bring a fee agreement with all offers or you may post the amount offered to another agent.
Q: What will be the duration of a mere listing on MLS?
A: Two to 12 months.
Q: Can I state how much commission (or flat fee) I am willing to pay?
A: Yes. This is important. If attracting buyers agents with buyers is important to you, you must decide on a commission amount when it sells. This information will be viewable to all agents but not the general public.
Q: Am I obligated to disclose defects (patent and latent), material facts and stigmas affecting the property?
A: Sellers have a contractual obligation to provide complete and truthful disclosures. This information can include and is not limited to structural defects, building code violations, unlawful use of the property such as illegal basement apartments, potential environmental hazards, underground oil tanks and septic systems, and "stigmatized" houses. Some examples of stigma include properties with history of growth or manufacture of illegal substances (marijuana grow-ops), history of serious crimes or incidents such as murder, suicide, arson or burglary, and properties that are believed to be "haunted"
Q: Can I do my own open houses?
A: Yes, Sellers are the only ones besides a licensed agent who can do their own open houses. You may not legally allow a neighbor or a friend to do an open house or sell your place as they would be acting in the capacity of a licensed agent and could be sued and fined for conducting duties of a licensed agent.
Q: What if it doesn't sell, can I get a refund?
A: No, but the Seller can list it with me and have all the services of MLS and not pay a dime until it sells. However should you decide to hire me full time as your representative, I will deduct and credit the former mere posting fee from the sales commission when it sells in the future.
Contact me
for more information and details on this topic.