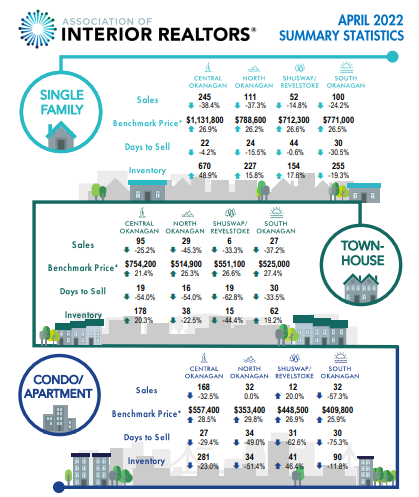 Residential real estate sales for the month of April showing signs of settling down after more than a year of historical high sales in the region, reports the Association of Interior REALTORS® (the Association). A total of 1,708 residential unit sales were recorded across the Association region, marking a 31.9% decrease compared to a record high number of units sold in April 2021.
"It is important to remember that this is not the same market we had a year ago. For almost the entire year in 2021 we had record highs each month, so to say sales are down does not mean they are low they are just lower in comparison to a time of unusual real estate market activity," says the Association of Interior REALTORS® President Lyndi Cruickshank, adding that "the current rising interest rate environment will naturally slow things down bringing real estate activity back to a healthier market – the transition of which we are starting to see reflected in the number of sales and in the way real estate transactions are transpiring."


New residential listings coming onto market in April saw a 5.6% drop within the region with 2,990 new listings recorded compared to the same period last year yet was up compared to last month's 2,871. The overall active listings increased 13.6% with 4,938 listings in year-over-year comparisons.


In the South Peace River region, there was a total of 52 residential unit sales recorded in April, with only
17 new listings coming onto market and a total of 217 active listings. The average price for single-family
homes saw a 3.8% decline compared to April 2021, coming in at $271,852, while the average price for
mobile homes and condominiums rose slightly by 4.5% and 4.2% respectively in the same period.
"It's not surprising to see sales drop in the South Peace River region since the region hit an all-time record
high for March," says Cruikshank, adding "this is also usually what happens when the supply of active
listings keeps falling at a consistent pace."

"Housing supply remains light, which points to a problem we've been stressing for a while: a generalized lack of housing supply. What we need is more homes getting on to market to meet demand and that is the real challenge," notes Cruickshank.


The average number of days to sell a home, always a good barometer to watch, dropped down to 39 days
from 46 days last month. It's important to note that the average of days on market is for the entire
Okanagan region and that the indicator will vary depending on home type and sub-region.
---
 The Association of Interior REALTORS® is a member-based professional organization serving approximately
2,500 REALTORS® who live and work in communities across the interior of British Columbia including the
Okanagan Valley, Kamloops and Kootenay regions, as well as the South Peace River region.
The Association of Interior REALTORS® was formed on January 1, 2021 through the amalgamation of the
Okanagan Mainline Real Estate Board and the South Okanagan Real Estate Board. The Association has
since also amalgamated with the Kamloops & District Real Estate Association and the Kootenay Association
of REALTORS®.