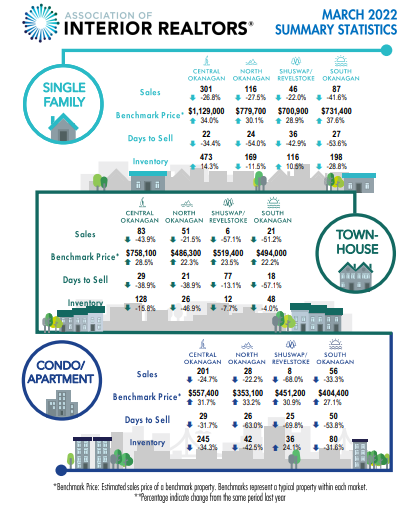 Residential real estate sales for the month of March saw a slight uptick
over February sales showing signs that the typically busy spring market has commenced in the region, reports the
Association of Interior REALTORS®.


A total of 1,898 residential unit sales were recorded across the Association region, marking a 25% decrease
compared to a record high number of units sold in March 2021. New residential listings coming onto market
in March saw a decrease of 7% within the region with 2,871 new listings recorded compared to the same
period last year yet increased 55% compared to last month's 1,850. The overall active listings clocked in
marginally below last year March's active listings with 4,018 listings that is a nearly 3% decrease in year-overyear comparisons.


"It is encouraging to see that in the month of March we saw a slight increase of sales, as well as an upswing
of new listings compared to February, which is seasonally expected for the local real estate market as we
head into the warmer spring months," says the Association of Interior REALTORS® President Kim Heizmann,
adding that "the spring fling seems to have been kick started which is great news for buyers and sellers,
however new listings are still not coming on to market at the rate needed to meet demand."
"Without a drastic supply of housing coming onto market, the lack of inventory will continue to impact
buyers and sellers in the coming months," noted Heizmann.


The benchmark price for homes in the Central Okanagan, North Okanagan, South Okanagan and
Shuswap/Revelstoke regions double-digit percentage increases in year-over-year comparisons for another
consecutive month across all home categories, with the greatest increase being for single-family homes in
the South Okanagan. The benchmark price for single-family homes in the South Okanagan recorded a 37.6%
increase compared to March 2021 coming in at $731,400.
The average number of days to sell a home, always a good barometer to watch, dropped down to 46 days from
54 days last month. It's important to note that the average of days on market is for the entire Okanagan region
and that the indicator will vary depending on home type and sub-region.
SOURCE: The Association of Interior REALTORS® is a member-based professional organization serving approximately
2,500 REALTORS® who live and work in communities across the interior of British Columbia including the
Okanagan Valley, Kamloops, Kootenay and District, as well as the South Peace River region.
The Association of Interior REALTORS® was formed on January 1, 2021 through the amalgamation of the
Okanagan Mainline Real Estate Board and the South Okanagan Real Estate Board. The Association has since
also amalgamated with the Kamloops & district Real Estate Association and the Kootenay Association of
REALTORS®. 
The MLS® Home Price Index (HPI) is the most advanced and accurate tool to gauge home price levels and
trends by using benchmark pricing rather than median or average. It consists of software tools configured to
provide time-related indices on residential markets of participating real estate boards in Canada.